2021 BC Football Season in Review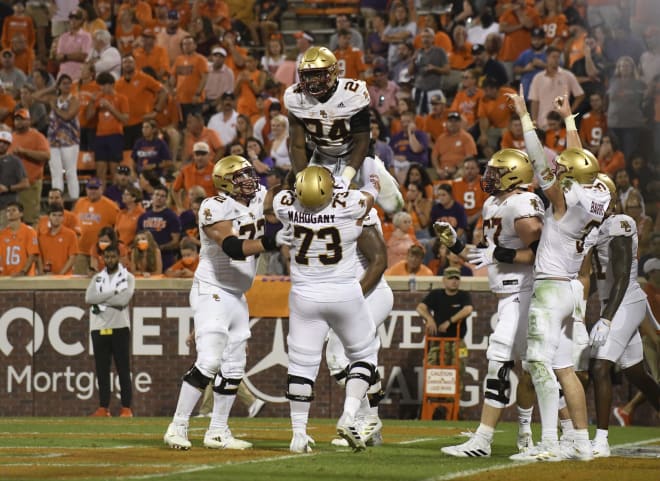 Wake Forest won 10 regular season games, at one point rounded out the Top 10 in the AP Poll and dethroned Clemson for the Atlantic Division title. That could have been Boston College.
Could have, should have, would have.
Injuries and, ultimately, flu and COVID-19 outbreaks spoiled the Eagles' 2021 season. Phil Jurkovec suffered a season-threatening hand fracture at UMass in Week 2, and BC's offense took a massive step back with Dennis Grosel and, eventually, Emmett Morehead under center.
Jurkovec unexpectedly returned to snap a four-game losing streak and make the Eagles bowl eligible for the sixth year in a row, but then the magic ran out: A 20-point second-half comeback fell short against Florida State, and, the following week, Wake Forest coasted to a blowout win over an injury-depleted and flu-ridden BC squad.
The Eagles accepted an invitation to play in the Military Bowl yet had to pull out the day before because they were missing more than 40 players due to COVID-19 issues, injuries and opt outs.
It marked the second straight season and third in the last six years that BC hasn't played a full bowl game despite being eligible.
Best Moment: BC Outlasts Missouri in OT, Hafley Jabs Back at Drinkwitz
Leading up to the teams' Week 4 meeting, Missouri head coach Eli Drinkwitz revealed that he'd prefer to have a non-conference regional rivalry game than a trip to BC, declaring that he didn't know "the last time Missouri signed a kid from the great state of Massachusetts."
Jeff Hafley fired back: "If he really didn't want to come to Boston, he should have called me up and asked me, and I would have gotten on a plane and flew out to Missouri to play."
The exchange bred newfound animosity between the Power Five programs and set the stage for the best atmosphere at Alumni Stadium this season. A sold-out crowd shook the seats as the Tigers and Eagles traded blows in a high-scoring affair. Grosel threw an interception on BC's first play from scrimmage but recovered to pile up 210 total yards, passing for a pair of touchdowns and, notably, diving for a 4th-and-4 conversion to extend one of five Eagles' scoring drives that spanned five-plus minutes.
Missouri quarterback Connor Bazelak sliced and diced a much-improved BC secondary much of the day and even slingshotted the Tigers into field goal range with under 25 seconds left. Harrison Mevis tied the game with a 56-yarder as time expired. But then Grosel found Zay Flowers for six, and Brandon Sebastian picked off Bazelak to seal the deal. Cue the field storming. BC had just beaten its first SEC visitor in 34 years and improved to 4-0 for the first time since 2007.
After the game, Hafley quipped, "It was a great day for the Commonwealth."
Worst Moment: Mistimed Snap Costs Eagles Upset in Death Valley
Grosel almost pulled it off. He became one of just five quarterbacks to have thrown for 300 or more yards against Clemson in the last three years. He completed 12-of-16 passes in the fourth quarter, including at least four straight to begin each of the Eagles' potential game-tying drives with under five minutes remaining in Memorial Stadium. The second time around, the veteran backup marched the Eagles all the way to Clemson's 11-yard line with less than a minute to go.
But then he took his eyes off center Alec Lindstrom to look at the play clock. When it hit three seconds, the ball hit Grosel's left hand. The redshirt senior couldn't corral the shotgun snap, and it ricocheted backward. Tigers defensive KJ Henry hopped on the ball to extend Clemson's 30-game home win streak and BC's now eight-year drought without a win over an AP-ranked opponent.
A year removed from blowing an 18-point first-half lead against Clemson, the Eagles once again faced heartbreak in Death Valley. Against the most vulnerable Tigers team in more than half a decade. It's the big "what if" of BC's season because, after that, Grosel and the Eagles' offense unraveled. BC lost its next three games while scoring a combined 27 points.
Offensive MVP: WR Zay Flowers
There's no question that Flowers was the Eagles' most dynamic weapon in 2021. He was the year before as well. Even without a healthy Jurkovec for much of the season, Flowers reeled in 44 passes for 746 receiving yards and five touchdowns. He finished tied for third in the ACC with six receptions of at least 40 yards.
Once Jurkovec returned, Flowers reminded everyone just how dominant he can be when targeted accurately downfield. The junior doubled his touchdown total at Georgia Tech with scoring grabs of 48 and 39 yards. Flowers didn't put together the Biletnikoff campaign he might have if Jurkovec never went down, but he piled up at least 20 more catches than every other Eagle.
Defensive MVP: DB Josh DeBerry
Despite missing the final two games of the regular season with an ankle injury, DeBerry was fifth on the team in total tackles and ranked atop the BC leaderboard with 36 solos. The junior earned All-ACC second-team honors after moving inside to the nickel spot, where he thrived.
He was all over the field, lining up mostly in the slot yet also stretching outside for 117 snaps, setting up in the box for 51 more and even on defensive line for 11. DeBerry blitzed, stopped the run and allowed just 23 catches on 44 targets, posting a career-low reception percentage of 52.3%, according to Pro Football Focus. And he picked off passes against UMass and Missouri.
Breakout Player: RB Pat Garwo III
Garwo started the season as the fourth running back on the Eagles' depth chart. He finished it as the 19th BC player to ever eclipse the 1,000-yard mark in a season. His 1,045 rushing yards in 2021 are good for 21st-most all-time in single-season program history. Garwo gave BC's run game the oomph it was missing last year.
The redshirt sophomore registered 26 runs of 10 or more yards, good for fifth in the ACC, per PFF. To put that in perspective, David Bailey and Travis Levy combined for 15 runs of 10-plus yards in 2020. Garwo ran over, through and around defenders this season. He notched four 100-yard games, reaching the century mark in back-to-back outings against Virginia Tech and Georgia Tech.
Freshman of the Year: PK Connor Lytton
Lytton's first career field goal was a 49-yarder against Missouri. He drilled it to end the half. It was the longest BC field goal since Nate Freese hit a 52-yarder in 2013. Lytton's Week 4 performance won him the job, and he never looked back. The true freshman was 11-of-12 on the year with his only miss coming against North Carolina State. He was 5-of-6 from 30-39 and 2-of-2 beyond 40 yards. Lytton also converted all 25 of his extra points. When Aaron Boumerhi went down for the year in preseason, there were questions about who would step up at place kicker. Lytton put them to bed.
Plays of the Year
Brandon Sebastian's Game-Sealing Interception vs. Missouri
Sebastian had a knack for making highlight-reel plays during his four-year Eagles career. This season, he was tied for 14th nationally with four interceptions despite missing three regular season games and not getting the chance to play in a bowl game.
One of those four clinched BC's 4-0 start. After Sebastian picked off Missouri quarterback Connor Bazelak in overtime, he was swarmed by his teammates. Once he broke free, the veteran cornerback dropped the football and pointed to his forearm, where he wears his "Jordan Strong" wristband to honor his oldest brother Jordan, who died from colon cancer at the age of 24 in October 27.
Trae Barry's Hurdle Against Colgate
Barry's first catch as an Eagle was his longest: a 51-yard touchdown reception that was made possible by a jaw-dropping hurdle. The grad transfer tight end said postgame that he had pulled off a hurdle before at Jacksonville State and in high school, but he conceded that his sister who runs track and field would have pointers for him later that evening.
Phil Jurkovec Goes Airborne in Virginia Tech Return
Jurkovec's return was heroic, and it fittingly came on the night of the annual Red Bandana Game. He was expected to miss the rest of the 2021 campaign when he went down in September. But he came back in November to face Virginia Tech and, regardless of his weakened grip strength, played fearlessly. Jurkovec put the Eagles on the board first, going airborne for a zone-read touchdown. It was the start of a memorable night in Alumni Stadium.
Honorable Mention: Flowers' 73-Yard Rushing Touchdown That Didn't Count
Jurkovec was wrongfully called for a blindside block, wiping BC's play of the year off the table. Flowers took a reverse toward the right sideline, while Jurkovec laid out Wake Forest defensive lineman Miles Fox. Then Flowers juked another Wake Forest D-Lineman, Jasheen Davis, before using his left hand to support himself after falling backward in the process of evading the 294-pound Dion Bergan Jr. Flowers shot up immediately and sprinted to the opposite side of the turf, soaring downfield and following a Joey Luchettti block into the end zone for a 73-yard score that ultimately didn't count.
What's Next?
The silver lining for Eagles head coach Jeff Hafley is that, because of his team's underachieving 2021 season, his biggest playmakers have decided to run it back for 2022. That includes Jurkovec, Flowers and DeBerry. BC will be inexperienced up front on both sides of the ball, but it will be loaded at the offensive skill positions and in the back end. The Eagles just reeled in their second consecutive top-35 recruiting class. Don't be surprised to see a bunch of true freshmen get looks next season. Granted, injuries were a catalyst this season, but Class of 2021 signees saw a good bit of time this year.
BC will kick off 2022 with a home game against Rutgers. The Eagles' remaining three non-conference opponents are Maine, Connecticut and Notre Dame. As for ACC play, they'll host Clemson, Duke, Louisville and Syracuse. They'll hit the road for Virginia Tech, Florida State, North Carolina State and Wake Forest.
Once again, optimism surrounds the program, particularly after Hafley was extended through the 2026 season. That said, although he's won over the fan base with superb recruiting chops and player-conscious decision making, he's yet to end BC's eight-win season drought or snap its 23-game losing streak against AP-ranked opponents. He'll have to do both of those in 2022.
The honeymoon phase is over.