Upset Win Slips Through BC's Fingers in Death Valley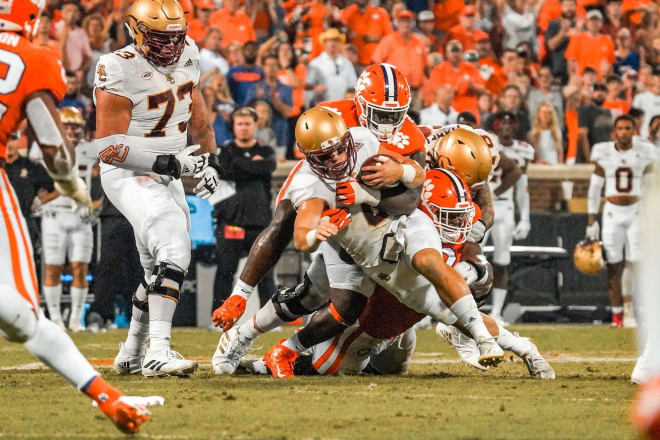 CLEMSON, S.C. — Boston College was 11 yards away from snapping its 10-game losing streak to Clemson, the No. 25 Tigers' 30-game home win streak and BC's 20-game losing streak to AP Top 25 opponents.
A mistimed snap, however, spoiled the Eagles chances Saturday night in Death Valley.
With 53 seconds remaining in a sold-out Memorial Stadium, BC quarterback Dennis Grosel took his eyes off center Alec Lindstrom to look at the play clock. When it hit three seconds, the ball hit Grosel's left hand.
The redshirt senior couldn't corral the shotgun snap, and it ricocheted backward. Grosel, a former Butler baseball preferred walk-on commit, failed to field the bouncing ball, and Clemson defensive end KJ Henry hopped on it for a game-sealing fumble recovery.
Clemson quarterback DJ Uiagalelei kneeled down, and the Tigers celebrated a 19-13 Homecoming win, their second such victory over the Eagles in three years.
Clemson's offensive line was a pain point throughout the first four weeks of the season, so it was no surprise to see Tigers (3-2, 2-1 ACC) head coach Dabo Swinney move some pieces around this weekend. With Will Putnam out, center Matt Bockhorst shifted over to right guard, and Hunter Rayburn took over at center, while Marcus Tate lined up at left guard.
The mixup worked for the Tigers, who came in 99th nationally in rushing offense but piled up 231 yards on the ground Saturday, including 162 in the first half. It was a three-pronged attack, courtesy of running backs Kobe Pace and Phil Mafah—both underclassmen—and Uiagalelei.
On Clemson's second series of the game, Uiagalelei froze BC (4-1, 0-1 ACC) on the zone-read. Linebacker Isaiah Graham-Mobley and safety Jaiden Woodbey both went for Uiagalelei, who handed the ball off to Pace. The sophomore rocketed through the line untouched and coasted for a 59-yard touchdown to give the Tigers a 7-0 lead.
The Eagles responded with a scoring drive of their own. Grosel looked significantly more comfortable than he did during BC's opening series. He found Trae Barry a couple times and then moved the chains on a 3rd-and-4 pass to fellow tight end Joey Luchetti.
"We knew we were going to have an advantage in the tight end position against some of their linebackers and their safeties," Grosel said. "They were great all night."
Running back Pat Garwo III followed things up with a 27-yard run that very nearly went for six had Garwo not been tripped up by Clemson cornerback Andrew Booth Jr.
BC's 10-play, 70-yard drive culminated in a 22-yard Connor Lytton kick: the first of two Eagles red zone field goals in the opening half.
Missed opportunities were the story of the game for BC. The Eagles shot themselves in the foot with penalties. Again. In 2020, BC averaged 9.7 flags per game against AP Top 25 opponents. The Eagles had 10 infractions (notably, five false starts) Saturday, and three of them came on a drive late in the first quarter.
"It was loud," Hafley said. "It was really loud. As much as I thought we prepared for the noise, this is the first time in two years we've been in an environment like this."
Luckily for the Eagles, punter Grant Carlson—who leads in the ACC in punt average—boomed a 72-yard punt that rolled all the way to the Clemson four-yard line.
It didn't matter, though. Clemson drove the length of the field in just over five minutes. Uiagalelei powered through the Eagles' defense with a 14-yard run on a quarterback draw. He hooked up with wide receiver Joseph Ngata, who had a game-high 111 receiving yards, for a gain of 25. And then Mafah put BC safety Mike Palmer in the spin cycle en route to the BC seven-yard line.
That's where the Eagles stood tall, forcing the first of four BT Potter field goals.
The second followed a Nolan Turner interception. Grosel's pass intended for Eagles star wideout Zay Flowers was high. It bounced off Flowers' hands and into the arms of the Tigers' veteran safety. Except, once again, BC's defense held, and Potter trotted out for a 40-yarder.
The Eagles were trailing, 13-3, with 7:07 left in the half. Like they did against Missouri the week before, Hafley and his staff opted for a 2-for-1 opportunity, ending the first half and starting the second with a score. Because the Eagles were getting the ball back to start the back half of play, they milked 6:48 of clock on what was their last drive of the second quarter.
It was probably Grosel's best series of the game. He sold a roughing the passer call, gave BC a fresh set of downs with a quarterback keeper and connected on his first three throws, one of which he fired to Travis Levy for a pickup of 19 before being decked to the turf.
A Grosel sack, however, meant the Eagles had to call on Lytton to boot another field goal through the uprights. The 34-yarder made it a 13-6 game at intermission.
That series was methodical in every sense of the word. BC's lone touchdown drive, on the other hand, was not. It was just speedy.
After a near pick on the first play of the second half, Grosel recovered with back-to-back 30-plus-yard pass plays to Barry and Luchetti. From there, Garwo punched the ball into the end zone to tie things up at 13-13.
BC had all the momentum, especially following a Clemson three-and-out. True freshman wideout Jaden Williams nearly came down with a miraculous catch that would have pushed the Eagles well into Tigers territory but bobbled the ball on the way down.
BC got another shot to take command of the game after Neto Okpala plowed through Clemson's punt block team and deflected Will Spiers' kick. Despite taking over at the Tigers' 38-yard line, Grosel and Co. squandered the chance. Carlson punted, pinning Clemson at the two-yard line, yet, before long, it was the Eagles who were backed up against the wall.
Late in the third quarter, Grosel airmailed a pass from BC's own end zone. It soared over the head of wide receiver CJ Lewis and into the hands of a diving RJ Mickens.
Potter knocked through his third kick of the game, following back-to-back Clemson penalties that set up the ever-weird 1st-and-30. It was another win for the Eagles defense that seemed to come to the rescue whenever BC needed the unit.
"We definitely believe we're the best defense in the country," BC cornerback Brandon Sebastian said. "We expect to do that."
The defense delivered again when linebacker Kam Arnold blew up an option play on 3rd-and-1 early in the fourth quarter. That led to the first of two disastrous botched snaps for BC.
This time, Grosel marched BC out of its own territory and past midfield, but a dropped snap and subsequent 13-yard sack killed the Eagles' drive. It was also foreshadowing for what was to come.
Uiagalelei and Ngata almost put the game away before the second mishandled snap could happen. After the two hooked up for a gain of 54 yards, most of which was after the catch, Uiagalelei dialed up a backshoulder fade for Ngata, but the junior couldn't bring it down, and Potter cashed in on his final field goal.
In the final 4:51, BC got two chances to put Clemson away at Memorial Stadium. Both times, Grosel started out beautifully. The first series saw the fifth-year quarterback lead the Eagles all the way to Clemson 23-yard line, where a fourth-down pass to Flowers was just shy of the first-down marker.
A Jason Maitre sack on the ensuing Tigers series gifted the Eagles with an opportunity for a storybook ending.
It was trending that way.
With no timeouts, Grosel completed his first five passes of the drive. Grosel hit Flowers for two 14-plus-yard receptions and then calmly located Barry on the sideline to give BC a legit shot with under a minute to go on the Clemson 11-yard line.
But an incomplete pass that was inches away from being picked and a heartbreaking snap fumble did the Eagles in.
After blowing an 18-point lead to Clemson in Death Valley last year, BC came up empty again in a somehow more gut-wrenching fashion Saturday.
"I mean we gotta beat 'em," Hafley said. "They've beat us two years in a row now. They executed better than we did at the end of the game. We gotta execute.
"We gotta finish."