BC Beats Mizzou in OT, Improves to 4-0 for First Time Since 2007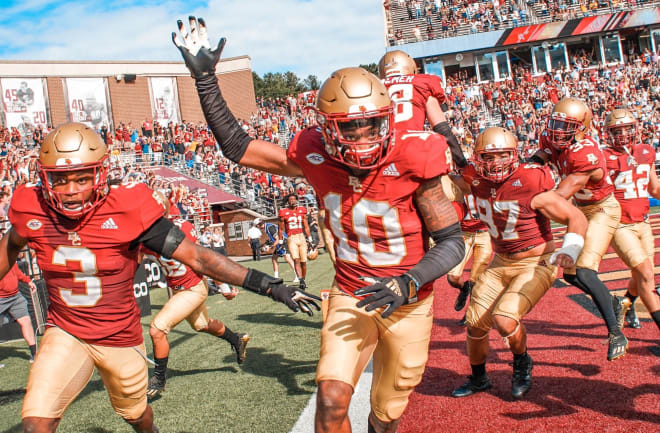 Boston College led Missouri, 41-34, in overtime. At home. In front of an almost sold out crowd that shook Alumni Stadium Saturday afternoon.
And Brandon Sebastian ran the wrong coverage.
BC was in zone, and Sebastian said he was supposed to make a call to nickelback Josh DeBerry. He didn't.
"I was all the way to the right so I could get a really good view of what they were going to do," second-year Eagles head coach Jeff Hafley explained. "I saw the quarterback pump and throw, and I just saw Sebastian bail."
The fourth-year starting cornerback was playing off instincts. He sniffed a deep shot from Tigers signal caller Connor Bazelak, and that's what he got.
Sebastian tracked the ball and, right before the goal line, used his bunnies to rocket off the turf and leap for the pass. He boxed out 6-foot-5 wideout Keke Chism and came down with the pick.
"I couldn't see if he had it or not," Hafley said. "And I just kind of put my hands up, and then the next thing I know there was like 5,000 people on my back."
Those 5,000 people were part of a maroon, gold and white sea that flooded the field after the game to the tune of the Eagles' unofficial anthem, The Killers' "Mr. Brightside." BC had just beaten its first SEC visitor in 34 years and improved to 4-0 for the first time since 2007.
It didn't look like it was going to go that way in the first quarter. Not the way the Tigers (2-2, 0-1 SEC) were slicing and dicing the BC (4-0) defense.
Bazelak dinked and dunked all over the Eagles in the first half. The reigning SEC Co-Freshman of the Year completed 20 passes in the opening two quarters, connecting with 10 different receivers in the process. Bazelak was taking what BC gave him underneath, and it paid dividends. He was 8-of-8 for 43 yards and a touchdown on Missouri's opening drive.
The series came to a screeching halt at midfield, but a running into the kicker penalty on BC cornerback Elijah Jones gave the Tigers a manageable 4th-and-1. Head coach Eli Drinkwitz rolled the dice, and Bazelak rewarded him with a five-yard pass to Chism. From there, running back Tyler Badie ripped off a 24-yard run, and Bazelak found redshirt senior wideout Barrett Banister in the end zone for six.
BC's start went from bad to worse when Dennis Grosel threw an interception on the Eagles' first play from scrimmage. He felt pressure and launched a deep ball for wide receiver Jaden Williams, despite there being three Tigers in the area. Shawn Robinson came down with the pick, and Missouri took over at its own 38-yard line with all the momentum on its side.
BC's defense did a lot of bending but not breaking Saturday. When the unit needed a stop, though, it often came through. The Eagles essentially wiped the turnover off the board, forcing Missouri to punt and then going 98 yards in four plays to tie the game.
Well, 67 of those yards actually came on one play. Shortly after Grosel slingshotted BC out of its own goal line with a 27-yard pass to Zay Flowers, Eagles running back Pat Garwo III, who finished with a career-high 175 rushing yards and two scores, broke four arm tackles and rumbled for a backbreaking touchdown run. It was the beginning of a dominant performance by the Eagles much-improved run game.
"I almost cried after the game because I was so proud of everybody on the offensive line," center Alec Lindstrom said.
The Tigers' fast-paced aerial attack was only dormant for so long, though. Drinkwitz froze BC with a flea-flicker that resulted in a 38-yard connection between Bazelak and wide receiver Tauskie Dove. Following the highlight-reel trick play, the Tigers got to the line quickly and ran Badie in for a score.
Grosel and the Eagles answered with the first of five scoring drives that spanned at least five minutes. Garwo and West Virginia transfer running back Alec Sinkfield both had runs of 17-plus yards during the series, and Grosel tied things off with a seven-yard pass to Williams, who now has three touchdown catches in his true freshman season.
The teams traded punts and then field goals. Missouri started the pattern. Again, Bazelak was humming. But BC linebacker Isaiah Graham-Mobley—who was nearly bounced for targeting—made back-to-back tackles in the red zone, and a Jones pass break-up brought on Missouri place kicker Harrison Mevis, who converted the 28-yard field goal.
Boosted by a 38-yard catch and run from CJ Lewis on a 3rd-and-8, the Eagles chewed clock and marched downfield to give themselves a chance to end the half with points. Grosel took a bad sack, but it didn't knock the Eagles out of field goal range. True freshman Connor Lytton, who hadn't attempted a field goal the first three weeks, trotted in and smacked a 49-yard field goal through the uprights.
It was the start of a critical 13-point swing, in which BC turned a three-point deficit into a 10-point lead. BC took full control of the game, like a puppeteer pulling all the strings. The Eagles held the ball for practically the last 5:14 of the first half and all but 1:18 of the third quarter.
"The clock is everything," Hafley said. "We watch it, we talk about it. It's like when I mentioned to you guys earlier this week. We coach the game together. We try to win together: offense, defense and special teams."
BC kicked off the third quarter with a 13-play, 6:40 touchdown drive, which saw Jaelen Gill and Lewis make chunk receptions, and Garwo continue his takeover on the ground. Garwo did the honors, punching the ball in from three yards out.
That's when Bazelak threw the first of his two interceptions. He didn't see DeBerry lurking behind Banister, and the Eagles nickelback made him pay. Grosel had two heroic runs on the Eagles' ensuing drive, but only one of them counted: a five-yard scramble on 4th-and-4 that ended with a picture-perfect Grosel diving with the football outstretched to move the chains.
This series was longer than BC's first of the third quarter, draining seven minutes and two seconds, however, it culminated in just three points as Lytton sank a 31-yarder.
BC had the opportunity to mount another stop on defense, but the Tigers clawed back. A 40-yard pass play to Dove put the wheels in motion, and Michael Cox found the paint at the goal line to cut BC's lead to 27-24. A poorly-timed Eagles three-and-out gave Missouri great field position, and the Tigers made the most of it, stringing together an 11-play, 57-yard touchdown drive that was completed with an eight-yard Badie run.
The Eagles got the ball back with 6:18, and they didn't want Missouri to get another possession. Grosel moved the sticks on 3rd-and-4 with a clutch throw to Flowers. Time came flying off the clock as BC methodically worked its way downfield. Travis Levy plowed his way to the Missouri nine-yard line, except a face mask penalty on the veteran running back set the Eagles back a bit. It ended up just delaying Levy's reservations for six. He got in six plays later, scoring a five-yard rushing touchdown. BC was up, 34-31, with 25 seconds left.
That was enough for Bazelak and Co., a contingent that piled up 155 total yards of offense in the fourth quarter. Tic-tac-toe, Bazelak went to Banister, then Chism and back to Banister to set up Mevis for a 56-yard field goal, which he drilled as time expired.
BC began overtime with the ball, and it didn't take long for Grosel to oft a 10-yard touchdown pass to Flowers.
"He's like a dog with a frisbee," Grosel said. "You throw it up there, and he comes down and gets it."
The next drive, Sebastian made his move, clinching a high-stakes game between BC and Clemson with the most buzz around the program since, well, Sebastian did the same thing as a redshirt freshman in 2018.
Sebastian's first interception came in late in the third quarter of the Eagles' November road win at Virginia Tech that locked up "College GameDay" for BC and set the stage for a top-20 matchup with Clemson on the Heights.
Sebastian said Saturday's pick gave him a flashback of that moment in Blacksburg.
Only, this one was better.
"That was the best feeling I've probably ever had playing football," Sebastian said.