Williams, Terry planning BC trip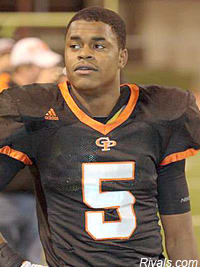 Delton Williams
is thrilled about his new offer from Boston College because he had heard lots of good news from the Eagles' coaches and his Erie (Pa.) Cathedral Prep teammate
Damion Terry
also has an offer from the Eagles.
The 6-foot-2, 205-pound athlete is so excited that he and Terry are planning to visit Boston College over spring break. Getting the offer from Boston College wasn't a complete shock but Williams is looking forward to learning more about the ACC program.
"It felt good because (Terry) and I were talking about them and over spring break we're going to go down there together, visit together and see what it's like," Williams said.
"It wasn't a surprise because one of the assistant coaches came to my school one time so I knew they were interested.
"The next time when they offered me they called my coach and I talked to them. We talked for a little bit and they told me they wanted me to visit, what I can do down there and that they're really excited about recruiting me."
So far, Boston College, Pittsburgh, West Virginia, Toledo and Kent State have offered Williams, who can play on either side of the ball.
Williams said Boston College's coaches are leaving it open where he'd play but he suspects running back will be his college position.
Taking the visit to Boston College is a big deal for him because Williams and Terry have discussed playing together in college. It's not a certainty that it will happen but it's something for both of them to consider.
"I'm really excited to get down there," Williams said. "A lot of people go to the league from Boston College and a lot of people are really successful in life. That's a good place to be.
"We said if it comes down to it, if we both feel good about the same place, then we're going to make that happen. We don't want to go someplace and not know anybody and feel home sick. He can help me get through it if I'm with somebody I know."
WANT TO GO INSIDE BOSTON COLLEGE?
Try our 7-day free trial now, just CLICK HERE to start getting the inside scoop on the Eagles and becoming a part of the biggest online community for Boston College sports.