Three-star LB picks up BC offer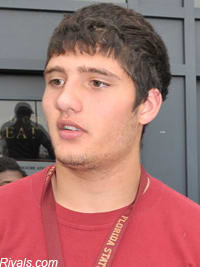 Nick Internicola
is yet another Florida prospect with an offer from Boston College. There's something a little different about him, though, when compared to many of the others in his situation.
Internicola, a three-star recruit according to Rivals.com, isn't a Florida native. In fact, his background could help BC in that regard.
"I'm originally from Boston so I know a lot about the city," Internicola told EagleAction.com this weekend. "I know Boston College is a good school overall, too."
Internicola learned he had an offer from BC coach Sean Desai late last week.
"It was a little bit of a surprise," he admitted, even though he already had offers from Cincinnati, Houston, South Florida, Syracuse and West Virginia, among others.
"He had spoken to me and told me something good could be coming Friday. I guess they talked as a staff and all made the decision to offer me."
Internicola left Boston when he was eight years old and he said he's still got a lot of family members in the area.
Of course, that doesn't only help BC. He recently picked up offers from Rutgers and Syracuse as well.
"I don't really have any favorites," he noted. "I'm just trying to narrow it down and get my mind right before committing.
"My range for committing is probably between near the end of the summer and mid-season."
The 6-foot-3, 230-pound linebacker from Fort Lauderdale (Fla.) University School is a three-star prospect.
WANT TO GO INSIDE BOSTON COLLEGE?
Try our 7-day free trial now, just CLICK HERE to start getting the inside scoop on the Eagles and becoming a part of the biggest online community for Boston College sports.