Ravenel coming back for second visit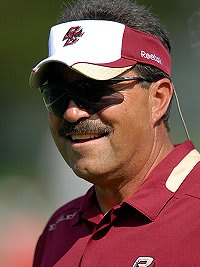 Brandon Ravenel
has already taken one unofficial visit to Boston College and he's planning to come back in the coming weeks.
The Stafford (Va.) North Stafford wide receiver does not have a solid date yet but Ravenel said he's looking forward to another trip to Chestnut Hill to check out the facilities again and hopefully meet with coach Frank Spaziani and some of the Boston College players.
Taking two unofficial visits has to be a good sign for the Eagles, who have been involved with Ravenel's recruitment for some time.
"They've been recruiting me for a while," Ravenel said of Boston College. "I have a pretty good relationship with the coach. I've been up there once but there is still a lot more I have to see.
"It was nice when I went up there. It's not a big place which I like. I didn't get to meet the head coach or any of the players. It was mainly just the facilities I got to see."
Ravenel, a 6-foot, 170-pound three-star prospect, said he will also take an unofficial visit to West Virginia later this month.
The Eagles and Mountaineers are definitely being seriously considered in his recruitment but Ravenel did not want to cut anybody else out, either. Many other schools are showing interest.
"There are still others but those are the ones I want to take visits to and see the campuses," Ravenel said.
Boston College, Buffalo, James Madison, Old Dominion, Purdue, Temple and West Virginia have all offered the three-star recruit.
WANT TO GO INSIDE BOSTON COLLEGE?
Try our 7-day free trial now, just CLICK HERE to start getting the inside scoop on the Eagles and becoming a part of the biggest online community for Boston College sports.