QB is hoping for an offer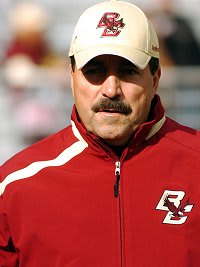 Mackay Lowrie
is still waiting for his first offer but the Roxbury Latin quarterback appears to be moving in the right direction.
Schools are starting to take notice of Lowrie. He has heard a lot from Boston College and this weekend he got some good news from another school.
On Saturday, Lowrie spoke with the coaches at Virginia and they decided to plan a trip to Charlottesville for him on Monday. This is in spite of the fact that Good Counsel quarterback
Brendan Marshall
had just committed to the Cavaliers, so that's a sign there may be some interest.
For most of the day on Saturday, however, Lowrie was focused entirely on BC. He visited the school along with several other recruits from the region.
"I had been up there on an unofficial visit for the FSU game so it was my second time on campus and meeting the coaches," Lowrie said early this week.
"The scrimmage was definitely the highlight of the trip. It was fun watching those guys bang around for a while. The quarterbacks looked good, the offensive line looked good, everybody looked good. It seemed like a lot of fun."
Lowrie said he went into the trip very familiar with some of the other unofficial visitors and it was good to reconnect with those guys.
"I got to meet some new guys, too," he added. "The same four or five of us have been touring around and seeing the same schools. Meeting some new guys was great."
The 6-foot-4, 200-pound pro-style quarterback said he also enjoyed his in-depth tour of the campus, which allowed him to get a closer look at BC than he had received before.
"I had a chance to talk to the coaches. Another highlight of the trip was getting to sit in there with Coach Martin for his pre-scrimmage talk. That was cool, being with all the offensive guys. They broke down a few plays.
"I had a chance to talk to Coach Spaz and Coach Martin so I met with them for a while."
Perhaps the only downside of the trip was leaving town without an offer but Lowrie didn't seem to bothered by that.
"As a quarterback the big thing is going to be throwing in front of them. They'll base their decision off that but they're real interested," he explained. "In this day and age they just need to see you throw."
Lowrie plans on visiting Rutgers on March 31 and he hopes to hit UConn in the next couple of weeks.
Does he have any favorites?
"Being a local kid obviously BC has to be a favorite. I like Rutgers a lot. I've spoken with their coaches and they're really great guys. It would be great to play for guys like that," he said.
WANT TO GO INSIDE BOSTON COLLEGE?
Try our 7-day free trial now, just CLICK HERE to start getting the inside scoop on the Eagles and becoming a part of the biggest online community for Boston College sports.