Ohio LB will give Eagles a look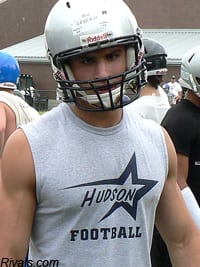 Ben Gedeon
is one of the top junior linebackers from Ohio and he has the offer list to prove it. Boston College is one of seven schools that has verbally offered the Hudson standout and there's a good chance that he will visit BC down the road.
Gedeon actually has some ties to the Boston area. His family isn't from nearby but his brother currently is.
"I know a little bit about them because my brother goes to Harvard," Gedeon said. "I've been around the campus a little bit and I know they have a good tradition. They especially have a good linebacker tradition."
Gedeon's brother, Alex, is a senior linebacker at Harvard and was a team captain this past fall. He will be graduating early next year so it's not as though Ben would be joining him in the area should he choose BC. Nonetheless, that area tie can only help the Eagles' chances.
"One of my coaches is good friends with BC's recruiting coach for this area," he added. "I've talked to them a little bit and I keep up with them.
"I really don't have any favorites yet. I'm kind of keeping all my options open. I'm going to take a lot of visits and go from there."
This fall Gedeon attended Ohio State's games against Akron and Michigan State. He also attended Penn State's home game against Alabama. The turmoil with the Nittany Lions in the wake of allegations against former defensive coordinator Jerry Sandusky really seem to have hurt Penn State's chances.
"It's definitely changed things a little bit because I don't know who's recruiting me right now," he said. "I'll still look at them but we've got to see how they recover from that."
Gedeon said he doesn't have any visit plans set in stone for the offseason but he should be especially active with unofficial visits in the winter and spring.
"Obviously education and academics are going to be huge factors," he said when asked about what the biggest factors in his decision will be.
"I'll also be looking at the coaches and how they fit in there."
This fall Hudson finished 10-2 and made the playoffs for the first time in nearly a decade. Gedeon registered 138 tackles on defense and on offense he rushed for 1,500 yards and around 20 touchdowns.
The 6-foot-3, 215-pound prospect is being recruited exclusively as a linebacker, though schools haven't specified whether he would play inside or outside linebacker.
Boston College, Michigan, Michigan State, Penn State, Purdue, Stanford and Tennessee are the seven schools that have offered Gedeon.
WANT TO GO INSIDE BOSTON COLLEGE?
Try our 7-day free trial now, just CLICK HERE to start getting the inside scoop on the Eagles and becoming a part of the biggest online community for Boston College sports.