New year, New Training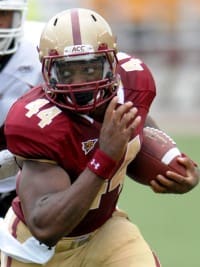 In the past two seasons the Eagles have been scarce of bright spots on offense, as they've finished in the basement in scoring offense and total offense in the ACC. To be frank, memorable moments have been hard to come by. That doesn't mean there weren't any though.
One of those memorable moments came at the end of the 2010 season. With star running back Montel Harris injured, freshman running back Andre Williams led the way with 293 combined yards of rushing against Virginia and Syracuse, to solidify a bowl berth for BC. Williams' performance against Syracuse was particularly impressive and left fans excited for what he might do in 2011 season.
In 2011, Williams picked up right where he left off rushing for 114 yards and 2 touchdowns in the opener against Northwestern. Some were calling for Williams to take over the starting role permanently. Unfortunately for Williams, September 3rd marked the last time he ran over 100 yards. The rest of the season was uneven at best.
Williams doesn't like to make excuses for his drop-off, but he says his injury was hard to ignore.
"Anytime you get injured it sets you back even if you come back from it. Last year I was injured before the season even started. I sprained my ankle in the last summer scrimmage and it definitely affected me. I felt like I wasn't confident because I was worried about how my ankle would feel if I did certain things and made certain cuts. This year I'm putting a larger emphasis on staying healthy," said Williams.
Williams took his athleticism a little bit for granted in the past. This year he's doing yoga and pool training, along with the various conditioning that he does as part of the team. The other big change for Williams is his diet.
"I've been changing my diet. I make sure what I'm eating is not going to hurt me. I eat more healthy things and cut out the nonsense. I eat a lot less meat now. I saw a documentary about how Americans have too much meat in their diet. I did some research on my own and discovered you can get protein from foods other than meat. Mostly everything I eat is healthy now and I hardly eat meat. You might catch me eating French fries that's about it," joked Williams.
The other change that Williams hopes helps both him and the team is the new direction of the offense.
"The offense this year is a lot simpler because it's less plays and more formation based. Once you get the system down there's not a whole lot more to learn on a weekly basis. The beauty of that is when the games start, as an offense, we are going to do less scheming and worry more about ourselves. Coach Martin's philosophy is that he doesn't need to scheme-he says other teams should need to scheme to stop us," said Williams.
Williams says that Martin's style will allow the team to think more big picture as the season goes on.
"I like the new offense. It's better for me because last year every week it would be a whole new set of plays to learn. That's part of the reason it was so hard to execute on game day because it was something different. It wasn't like we were practicing the same things over and over again. It was hard for the offensive line to get a grasp of certain concepts because they were concentrating on something we put in the week of game day. That was causing problems with execution," said Williams.
After rushing for 517 yards in '10, and 461 yards in '11 the team will need to lean on Williams to produce a big uptick in production this year, especially with Montel Harris gone.
"I'm going to miss Montel. When I came here he was pretty much the only one I was looking up to. He taught me a lot. We had to make do without Montel last year too though, so this news isn't too huge for the running backs. We've already been taking steps towards taking the leading role. I'm excited to see how this year turns out," said Williams.