Local OL picks up big offer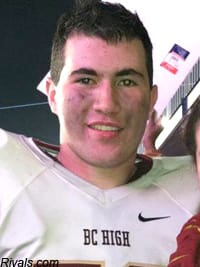 Jack McDonald
is regarded as one of the top prospects in Massachusetts and he's very familiar with everything Boston College has the offer.
The 6-foot-5, 275-pound offensive guard from BC High has spent plenty of time around the Eagles program so it's not like he's a stranger to Chestnut Hill.
McDonald's first offer came from Maryland and his second came last week.
"I talked to Coach (Sean) Devine and (BC) offered me a scholarship," McDonald told EagleAction.com.
Did the offer come as a surprise?
"I've been talking to BC a lot lately," he said. "Since their junior day I've talked to them a couple of times and I get a couple of letters a week from them. It's really nice to have.
"I wasn't sure if I'd get one before camp but they said they talked as a staff and they were ready to offer."
McDonald said he has been to BC a few times. He attended a couple of games last year and of course, he attended the junior day in January.
He's planning on returning for a spring practice.
"I'm really excited," he said. "It feels good to get one that's close to home. I live right outside there so it's definitely a good feeling."
McDonald is very close friends with Maurice Hurst Jr., another top recruiting target for the Eagles. The Xaverian defensive tackle sounded every bit as excited as McDonald about the offer and admitted that the prospects of landing at a school with McDonald and his other friend,
Tevin Montgomery
, is appealing.
McDonald isn't making any bold statements but it does sound like BC is in great shape.
"It's still pretty early but being right around here and with their coaching staff they're definitely going to be up there," he said, when asked whether he has any favorites.
"I had kind of planned on just waiting to see what happens if I get interest from any other schools. If I'm feeling really strongly towards a school then I would consider committing. I'm just going to try to wait it out and I might take my officials."
McDonald plans on visiting Duke on March 31 and Maryland on April 14.