Ibrahim planning BC trip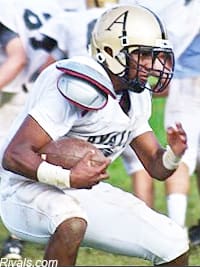 Rachid Ibrahim
has already been offered by Boston College so the next step for the Gaithersburg (Md.) Avalon School all-purpose back is to schedule an unofficial visit to Chestnut Hill.
The 6-foot-2, 170-pound prospect said he should be on campus sometime in the next month.
"They're recruiting me pretty hard," Ibrahim said.
"They offered me and I stay in contact with them. I just talked to the coach and he said he's supposed to come by the school on Wednesday. I want to learn more about Boston College, the program and I'm excited about that.
"I really just want to see the campus and see what it's like to be up there. One of my teachers is from Boston and he was around that area for a long time and he told me it's really a beautiful city. I want to go up there and see it for myself."
Ibrahim, who has been recruited as a defensive player by some schools but is targeted only for offense by Boston College, said he has a feeling he'll like what the Eagles have to offer.
He's looking forward to booking the trip soon.
"Outside of everything else, I know I'm going to like it a lot," Ibrahim said. "I like the cold weather and I know it's a great environment so I want to see if I could see myself up there."
The Maryland prospect recently took an unofficial visit to West Virginia and he's also expected to visit Michigan State in the next month as well. A trip to East Carolina is being planned sometime in June.
"Right now, there isn't much else going on," Ibrahim said. "I'm just going to take my time."
WANT TO GO INSIDE BOSTON COLLEGE?
Try our 7-day free trial now, just CLICK HERE to start getting the inside scoop on the Eagles and becoming a part of the biggest online community for Boston College sports.