Florida DE familiar with BC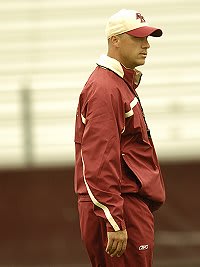 Brad Smith
picked up an offer from Boston College just recently and while Eagle fans may not be too familiar with the Tampa (Fla.) Jesuit defensive end yet he's actually been around BC a couple of times.
That's what he told EagleAction.com when we caught up with him this weekend.
The 6-foot-4, 205-pound defensive end from the talent-rich school in Florida found out about the BC offer recently and said he was excited by the development.
"I've been to their camps before. I've been to BC at least twice," Smith explained. "I went up to a game this year when they were playing NC State, which is another school that has interest in me. I had a great time at the game. It was fun, a real nice campus. It was a little chilly but I'm not necessarily against that."
Just to make sure will weather be something that causes the Florida-native to think twice about BC?
"I mean yeah, it's a factor, but it's not like I'm saying I'm definitely not going anywhere in the north. I'm from Florida and I like the heat but I'm not going to rule anybody out because of that."
Smith said he spoke with the BC coaches just recently and he plans to attend one of the Eagles' summer camp sessions.
In addition to BC and other schools that have offered like Duke, Air Force, Furman and Lehigh, Smith is receiving heavy interest from NC State, Stanford, Houston, West Virginia and even Florida.
What Smith is looking for in a school could help BC.
"One of my big things is I really like academics," Smith said. "That's going to be very important to me. I do also like big football so schools that have both are schools that I'd like. I like academics a lot. That doesn't mean I'm going to rule out state schools that are strong academically and might not by Ivy League schools."
WANT TO GO INSIDE BOSTON COLLEGE?
Try our 7-day free trial now, just CLICK HERE to start getting the inside scoop on the Eagles and becoming a part of the biggest online community for Boston College sports.