Five Headlines As BC Summer Camp Opens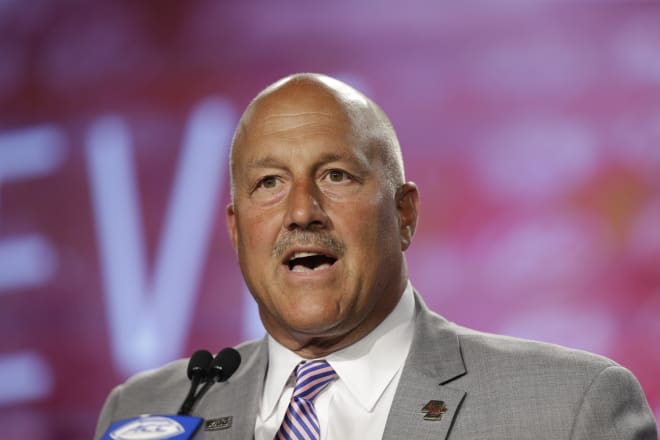 The long wait is over! Boston College football's summer camp begins this morning. We'll have live coverage for you in a few weeks, once they let me move into the Mods, but for now let's take a step back and ask ourselves: What are the five biggest storylines of camp in 2017?
1. Can there be no question who will be the quarterback?
As head coach Steve Addazio is wont to do, there is mystery in who will be the quarterback at the start of the season--Addazio doesn't like to officially announce who that man will be. But for those of you who have read my posts and seen the team in spring camp, the answer seems clear: Darius Wade. Even if Anthony Brown has the better physical tools and a higher ceiling, it doesn't appear that at this point he has a better grasp of this offense. Meanwhile, Wade has been in Addazio's system for four years now--two years as a backup, and one year beginning as the starter but ultimately on the sidelines with a broken ankle.
But the real nightmare for Eagles fans--and the offensive coaching staff--will be if Wade doesn't live up to his impressive spring. What the Eagles need him to be is accurate and efficient. The deep threats are nice, but for an offense that has simply been brutal over the last four years, a consistent and continued attack where Wade is making all of the throws he needs to make to open receivers (and, in turn, they don't drop said passes). However, if Wade struggles during this spring, and the coaching staff begins to question who will be starter, then the Eagles' offense shouldn't be expected to approve. On that note...
2. How will the up-tempo offense look?
As Scot Loeffler and Addazio have repeatedly noted, the Eagles will implement a pro-style offense that has a no-huddle focus with many spread sets. They recognize that that's what's necessary in today's ACC. We saw it to massive success in the Quick Lane Bowl's first half, where Patrick Towles spread the field enough to take advantage of incredibly generous field position (forced by a BC defense that looks to be just as stout). In the second half, though, Cinderella turned back into a pumpkin. The staff attributed that to the conditioning, and how the players hadn't conditioned for that kind of offense all season. This summer, we'll see how that new conditioning process comes along, and in turn, how the offense follows with it.
3. Was it the offensive line, or Jonathan Hilliman?
As a freshman, Hilliman appeared to have the physical tools and skill to become BC's every-down back, with 860 yards over 210 attempts and 13 touchdowns, an average of 4.1 yards per carry. But over the last two years those results just haven't added up. As a true sophomore, Hilliman had 198 yards and two touchdowns in only 51 attempts because of a broken foot in Week Four that earned him redshirt status. In 2016, however, Hilliman dropped dramatically, to 542 yards on 184 attempts and only six touchdowns, a measly average of 2.9 yards per carry and almost 20 fewer per game. That number drops to 2.56 YPC if you take out his 73 yard touchdown run against Georgia Tech.
This performance drop in one year begged the question: Did poor play on the offensive line cause this, or has Hilliman lost his touch? The offensive line of course has equal merit, given how many times Towles had to scramble. Now, neither has excuses anymore and needs to perform. Hilliman has two very good running backs breathing down his neck: four-star recruit A.J. Dillon and Travis Levy. Because of various injuries, the offensive line now has several people on the roster who have at one point started or easily could start--Marcel Lazard has come in to take a left tackle spot, Elijah Johnson will surely want his guard position back once healthy, Shane Leonard is waiting in the wings, and so on. Addazio has the weaponry to make a move if either Hilliman or the OL unit doesn't perform in camp. There's no reason--yet--to think that they won't, though. Hilliman, when allowed to run--most of what I saw in spring was passing, but that may have been timing--looked stronger than he has since before his injury.
4. Who steps up along the defensive line?
Even if there are larger question marks at the defensive back and linebacker positions in terms of talent, there's little question in personnel. The DBs will be made up of the six-man amalgamation, in all likelihood, of Isaac Yiadom, Gabriel McClary, Kamrin Moore, Will Harris, Lukas Denis, and Taj-Amir Torres, with Mehdi El-Attrach right behind. The linebackers will start out with Connor Strachan in the middle, Ty Schwab on the strong side, and likely Sharrieff Grice or, when healthy, Max Richardson on the weak side.
But what about the defensive line? There is, of course, one main starter on that unit: likely future first round pick, Harold Landry. Wyatt Ray and Zach Allen will also likely be used for these heavy pass rushing sequences. But what do the Eagles do when they face a run-heavy team? Both Ray Smith and Noa Merritt have done a good job at filling those roles at DT, but Truman Gutapfel is a man you REALLY need to replace in terms of his production.
5. Who replaces Myles Willis and Tyler Rouse in the return game?
One of the huge factors for BC's special teams play in 2016 was the return game. While Mike Knoll was efficient on his field goal/PAT kicking for the most part--he certainly didn't cost the Eagles any games this season--he struggled to adjust to his double-duty of punting. BC's coverage team was solid enough. But its return game really made special teams into a plus unit for Addazio and then-special teams coach Al Washington, who is now in Cincinnati. What's better is that it really was like a true home for BC's two senior backs, Rouse and Willis, who thrived in those roles.
Now, under Ricky Brown, it will be interesting to watch as who takes over those roles. As is typical with football, it's likely that, for injury and rest purposes, the man who takes back kicks/punts will probably not be high up the depth chart at his position. Michael Walker used to return kicks and had great success; however, it's hard not to imagine him as no less than BC's No. 3 receiver. Perhaps this could be a spot where Kobay White or Christian McStravick succeed? What about Torres, who was stellar in the spring game and throughout camp?