Final Scrimmage Recap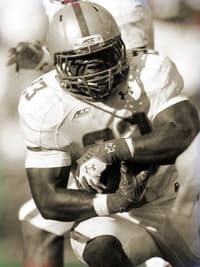 CHESTNUT HILL - Myles Willis rushed for three touchdowns and the Boston College offense bounced back from a sloppy performance to post a 50-22 win over the defense in the third and final scrimmage Wednesday morning at Alumni Stadium.
"There was a lot of progression," Eagles head coach Steve Addazio said about the offense, which reached the end zone five times after scoring only two touchdowns in the team's second scrimmage last Saturday. "They had a pretty good day out there today. Looked good."
BC's junior running back had a pair of short scoring rushes from one and two yards out, as well as a 17-yard touchdown run off a good block from the left tackle. "I feel like today we just came out and we were more relaxed," Willis said of the offense. "We just had a better day than obviously last scrimmage."
Sophomore quarterback Darius Wade had one touchdown pass, a 61-yard chuck-and-run play to sophomore wide receiver Sherman Alston.
Redshirt freshman quarterback Troy Flutie found newly converted sophomore wide receiver Elijah Robinson for a 20-yard touchdown and freshman quarterback John Fadule scored on a one-yard keeper on the final play of the scrimmage.
"We felt like [this performance] was definitely well needed and that we definitely got some more confidence and that we feel like we're jelling a little bit more," Wade said.
Defensively, the Eagles couldn't duplicate their success from Saturday's scrimmage.
The defense had eight tackles for a loss, including two sacks - a combined sack for sophomore defensive end Malachi Moore and graduate student defensive lineman Evan Kelly and a solo sack for freshman defensive back Taj-Amir Torres.
Senior linebacker Steven Daniels and freshman defensive back Lukas Denis had interceptions.
"I thought today wasn't their best day," Addazio said about the defense. "They had been pretty steady all camp. I thought today the offense was probably more consistent today."
Below are some notes and quotes from BC's final scrimmage.
•Sophomore running back Marcus Outlow and junior linebacker Tim Joy were bitten by the injury bug early in Wednesday's scrimmage. Outlow fumbled on a 3rd-and-2 run from the three yard line and was escorted off the field by trainers with an apparent left arm injury. Outlow stayed on the sideline and was spotted with a left hand/arm wrap. Joy hobbled off the field with an apparent right knee injury on the third play from scrimmage and was seen pacing on the sideline. Joy has his knee wrapped as he sat on the bench early in the second half.
•Junior wide receiver Harrison Jackson did not participate and wore on the yellow jersey on the sideline. Sophomore wide receivers Chalie Callinan and Thadd Smith, freshmen wideouts Thadd Smith, Chase Pankey and Nolan Borgensen and redshirt freshman offensive lineman Sam Schmal also sat out Wednesday.
•Senior wide receiver Bobby Swigert played and was targeted in his lone scrimmage of the season. Swigert had been a full participant in practice, but hadn't scrimmaged as a precaution.
•The offensive line consisted of (from left to right) senior Dave Bowen, sophomore Jon Baker, junior Frank Taylor (center), freshman Chris Lindstrom, and junior Jim Cashman. Senior Harris Williams lined up with the first-unit offensive line in warm-ups, but did not play. Sophomore Jon Hilliman opened with the first team, but played sparingly after tweaking his leg - Addazio said it wasn't anything serious. Alston, Robinson, and sophomore wide receiver Drew Barksdale were the primary wideouts. Outlow saw time in the backfield before his injury and redshirt freshman tight end Tommy Sweeney saw time with the starters.
•Defensively, it was the usual 4-3 front for the first unit. Junior Truman Gutapfel, senior Connor Wujciak, sophomore Harold Landry and junior Kevin Kavalec were up front. Junior linebacker Matt Milano and sophomore Ty Schwab surrounded senior Daniels. Sophomores Kamrin Moore and Gabriel McClary were the left and right corners while senior Justin Simmons and junior John Jonson were the safeties.
•Willis took some heat from Addazio early in the scrimmage, with the coach yelling at his most experienced running back after he took a loss in the backfield. Apparently, the tongue lashing was enough to wake him up as Willis went on to score three times on a day when Hilliman saw limited action outside of a first-down run on the very first play of the scrimmage. "Just got to be disciplined with my vision," Willis said. "We're a run offense. If you're a run offense, you can't get behind the chains. I just had bad vision and I bounced back, tried to correct it."
•Addazio wasn't ready to name the No. 2 quarterback behind Wade after solid days from both Flutie and freshman quarterback Jeff Smith. Flutie had a touchdown pass and moved the offense effective while Smith showed a knack for the big play with some lengthy runs. "It's so hard to say. They're so different and there's so much going on," Addazio said. "I thought Troy made a few plays today. That was the first time that I saw him really look like he took a little step. Jeff made a few plays. They both made some plays, which is overall good."
•Robinson has made marked improvement in a little more than a week since his switch to wide receiver, getting on top of the defense several times and reeling in the scoring pass from Flutie. Robinson, who received more reps Wednesday thanks to a minor groin injury for Smith that kept him sidelined, had success in high school as a quarterback, but Addazio simply wanted to get his best players on the field. "He looks like he's going to be a real X receiver - long, 190-pound guy, get up and get the ball," Addazio said. "I think that was … the right decision."
•Senior kicker/punter Alex Howell has officially won the starting job and will pull triple duty for BC on kickoffs, field goals, and punts, Addazio confirmed Wednesday. Howell made four punts Wednesday for 41, 63, 46, and 62 yards for an average of 53 yards. Howell also made a 41-yard field goal from the left hash and was 2-for-3 with a long field goal of 29 yards during the Eagles' 11-on-11 kicking drills. "I'm out here to play football," Howell said. "I'm not here to be a punter or a kicker or whatever. I'm here to do whatever coach asks me to do. If he wants me to do all three, then I'm doing all three. I want to be the best at all three."