Eagles Romp in Exhibition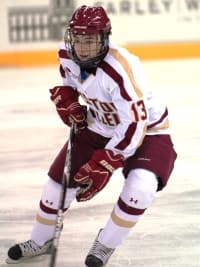 A loyal 522 fans showed up at the Conte Forum Sunday afternoon for a peek at what this year's version of their favorite team might look like with the opening night of the 2013-2014 Boston College hockey season just four nights away. It would be a surprise if any were disappointed in what they saw, an 8-2 thumping of the varsity from St. Francis University from up in Nova Scotia.
The highly touted freshman class showed up as advertised and the solid core of veterans played strongly on both ends of the ice. "I liked what I saw," coach Jerry York said after the game. "We moved the puck very well in all three periods. Even when we were down by two goals at the start, I thought we were playing well."
York was particularly pleased with the play of four freshmen who he admitted had impressed him in their first appearance in BC game jerseys. Highly touted defensemen Ian McCoshen, Steve Santini and and Scott Savage and Adam Gilmour, the tall freshman who is penciled in as the center for the fourth line, all drew mention from York.
His team's encouraging performance will make it difficult for York to decide just what players will be holding boarding passes for the flight to Ann Arbor, Michigan Wednesday afternoon for Thursday night's game. "I had everyone dressed for today," York said, "but it will be different the next time."
Having an overabundance of talented players is a problem most coaches would like to face. As York assigned roles for this only exhibition game, he appears solid down the middle, with Kevin Hayes, Bill Arnold and team captain Pat Brown centering the first three lines. Gilmour is sized like Kevin Hayes and like Hayes he has quick hands and seems to see the ice well. Add Gilmour's performance Sunday to that mix and it wouldn't take a guess to say who will be the four centers Thursday night.
Out on the wings it is probably just a question of juggling which wingers with which centers. Brown, Quinn Smith and freshman Chris Calnan, another big kid with good hockey sense are probably all set for now as the third line. Super winger Johnny Gaudreau, who reminded us Sunday just how good he is with a goal and an assist, played with Kevin Hayes as his centerman and speedy freshman Austin Cangelosi on the other wing. Cangelosi also had a goal and an assist and he can keep up with Gaudreau's speed and that could be an ideal match unless the speed on the left wing and the speed on the right wing get in each other's way. Again, a good problem to have for coach York to analyze.
That leaves freshmen Ryan Fitzgerald, who looked so steady Sunday, skating with the grinding Bill Arnold at center and another freshman, Evan Richardson on the right wing. Fitzgerald has poise, Richardson has tremendous speed and Arnold has the muscle. They scored a goal on Sunday but Arnold could easily swap places with Hayes if that is York's choice.
Down on the fourth line, an important trio whenever York's teams reach the top, had Cam Spiro and Brendon Silk with Gilmour on Sunday. Spiro has the size and grit to add the same spirit that captain Brown brought to the team last year. If the choice is to go over them or around them, like Brown, Spiro might choose the former. Every good hit brings a boost to a team's spirit, Brown pointed out last year.
Peter McMullen played late in the game and even scored a goal, with Matt Gaudreau, Johnny's little brother assisting, but those two players are probably too far down the depth chart to make an impact early in the season. Michael Sit and Destry Straight missed this game because of injury and/or illness.
With the three freshmen defensemen standing out Sunday and probable for the trip to Michigan, York will complete the defensive pairings with Mike Matheson, Isaac MacLeod, Teddy Doherty, or Danny Linell. Travis Jeke played well enough Sunday with a few good hits and Colin Sullivan played a lot in the third period, but these two will probably have to wait their turn before they become regulars again.
Of note, York has been using Kevin Hayes on defense killing penalties in practice and he was doing it again Sunday. It will be interesting to see if this will become a regular move.
In goal, York split the time Sunday between Brian Billett (two goals in the first), Thatcher Demko (not really challenged in the second) and Brad Barone in the third. Outsiders who have been reading about Demko in various publications and have been reading articles by Demko (at nhl.com) will be surprised if this 17-year-old phenom is not in net Thursday night. But, Jerry York told the press Sunday that he not made a goaltender decision yet.
St. Francis Xavier is a fair test of any Division 1 hockey team emerging from the pre-season. They are manned with experienced players, half of whom have come from Canada's major junior leagues. One even played in the professional American Hockey League last season. Eligibility rules are different for Canadian college hockey. On Saturday night this team almost beat Boston University, losing late by 2-1.
So the dreams go on. Sunday the Eagles came out "as advertised." Now it will be see if they can carry it further through a grinding opening month with Michigan, Wisconsin, Rensselaer, and Minnesota twice on the schedule. "We will see a different type of team on Thursday night," York admitted. And soon we will all see how this team measures against them, all six months of them, the coming hockey season.