Eagles in good shape with 2013 ATH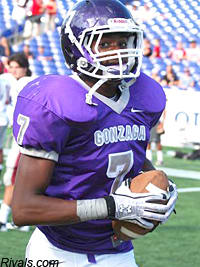 Devin Butler
was one of the more talented prospects to attend BC's junior day late that month and he got some great news while he was in Chestnut Hill.
The 6-foot-1, 170-pound athlete from Washington (D.C.) Gonzaga made a name for himself last fall, picking off six passes and getting it done in the defensive backfield.
In fact, Butler gets it done on both sides of the ball, though most schools are recruiting him as a corner or receiver.
Butler doesn't have any favorites yet but the Eagles have made a strong case early.
"The Boston College junior day was great," Butler said. "It was everything I expected. It was more than I expected, really.
"The campus was great, the facilities were nice and the coaches were nice. I really liked it."
Butler learned that he had a verbal offer from BC while he was in town.
"They offered me while I was there," he said. "It was sort of a surprise but my coaches told me they were probably planning to offer.
"I talked to my recruiter, Coach (Ryan) Day. We sat down and I had a one-on-one with Coach Spaziani.
"I'm highly interested in BC. They're definitely near the top of my list. You'll always have a soft spot for that first school to offer. I like the atmosphere and that campus lifestyle."
During the season Butler took a trip to Duke and while he enjoyed himself it didn't go quite as well as BC did.
"It was alright," he said. "The atmosphere was fun. It wasn't quite what you would expect but it was still good. The campus was great, the facilities were nice and the coaches were nice."
After BC offered Butler he quickly picked up offers from North Carolina, Northwestern, UConn and Iowa as well.
WANT TO GO INSIDE BOSTON COLLEGE?
Try our 7-day free trial now, just CLICK HERE to start getting the inside scoop on the Eagles and becoming a part of the biggest online community for Boston College sports.