Douglas talks about possible visit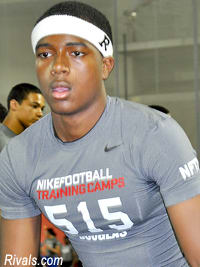 Ross Douglas
is already a big-time prospect with five offers including one from Boston College but the Avon, Ohio, athlete in the 2013 class wants to take lots of visits before making his decision.
The 5-foot-10, 180-pound prospect said he doesn't have an unofficial trip scheduled to Boston College yet but he plans to make it to Chestnut Hill before making his decision.
"Boston College is recruiting me really good," Douglas said. "They've been up to my school twice, the running backs coach and a defensive coach. They've been up and they're recruiting me pretty hard.
"I'll probably end up going up there but nothing is set in stone right now. I would like to get up there. Whatever school puts me in the best situation to be the best football player and the best human being, that's where I'm going."
So far, Boston College, Connecticut, Louisville, Minnesota and Tennessee have offered Douglas, who said he expects many more offers in the coming months. He has unofficial visits planned for Michigan and Ohio State in February and the Ohio recruit said he wants to take many more.
"Right now I have five offers and a lot more might be coming in because a lot of schools will be coming into my school next week," Douglas said. "I'm getting ready to take a lot of unofficial visits.
"I know I'll be taking a lot more visits. There is no doubt. I want to see what I'm getting myself into before I make my decision."
Since it's still early in his recruitment, Douglas said he has no leaders or even a top list and that he wants to take his time before making a decision.
The Ohio athlete wants to end things before his senior season starts but lots of unofficial visits will take place before that just to make sure he's doing the right thing.
"Right now everybody stands out to me," Douglas said.
"I'm not that deep in the process, the process is just beginning and so everybody stands out to me at this point. When the summer starts coming around I'll start breaking it down and start narrowing down my schools."
WANT TO GO INSIDE BOSTON COLLEGE?
Try our 7-day free trial now, just CLICK HERE to start getting the inside scoop on the Eagles and becoming a part of the biggest online community for Boston College sports.