Dillon details upcoming plans, previews season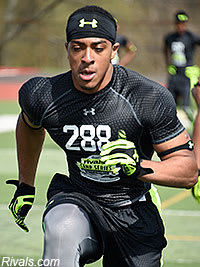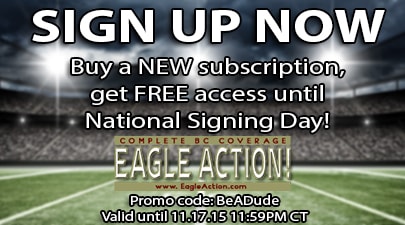 Four-star running back
AJ Dillon
is a player that BC's coaches have been paying close attention to. He shared the latest in his recruitment with
EagleAction.com
recently.
Boston College is just one of the schools the Rivals250 running back is considering. The 6-foot, 228-pound back from Lawrence Academy has become somewhat familiar with BC, but it's also been clear that he isn't limiting his focus to the Eagles.
In fact, he's been very open to other schools.
Lately, however, Dillon has mostly been getting ready for his junior season. While most prospects across the country have been playing football this fall for a while, Dillon and other players in Massachusetts are just gearing up.
"Our first real game is this Saturday," Dillon said. "We've had one scrimmage but that wasn't for real. Then we had a scrimmage last Saturday and that was a live scrimmage. I think our team's looking to be really good. Last year we won our league and then we won our bowl game as well. I feel like we're looking really great going into the season. We've got a lot of new pieces. We replaced guys well and we're gelling as a team. We're getting some of the new guys on track."
Dillon will be a centerpiece to Lawrence Academy's offense. It's an offense that shows a lot of different looks, ranging from the pro-set to the I-Formation and even some variation of the spread.
"I feel like I'm going to get a good amount of touches," Dillon said. "We pass the ball a decent amount. We do a lot of things really well."
The only college football game Dillon has attended this fall was at Virginia. He was in Charlottesville when Notre Dame narrowly defeated the Cavaliers on that last minute touchdown pass. Virginia is a school that Dillon has been very interested in for a long time.
Since he visited a lot of schools this summer Dillon said he's not rushing other trips.
"It's hard because we only have two Friday games," Dillon said. "On the 24th of October and then the 6th of November, so I'm trying to figure out what schools I'll get to on those Saturdays. Maybe it's something where I can get to the closer (schools)."
Which schools have been in the most contact with Dillon since the start of September?
"The most contact would probably be Notre Dame, Virginia and Penn State," he said. "Really, those are the (coaches) I talk to on a really consistent basis. Virginia Tech as well, and I talk to Boston College a lot. And Pittsburgh. Those are the ones I talk to on a daily basis. I've talked to a lot of coaches from different schools, like Syracuse, Michigan and some others."