Devine Talks OL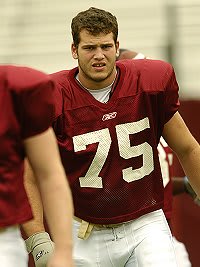 After churning out multiple big men to the NFL over the last couple of decades, Boston College has earned the nickname "O-Line U". In a sport where the only thing that's consistent is the amount of inconsistency to it, the norm for the Eagles heading into each year is that the offensive line is a position that can be counted on for above average play at a minimum. This spring has a little different feeling from other springs as the Eagles will have starting spots open at left and right tackle, and right guard. The most intriguing battle for fans to follow seems to be the competition to be the replacement for future NFL 1st Round Draft Pick Anthony Castonzo at left tackle.
"Who ends up starting at the two tackle spots against Northwestern is to be determined this spring," said BC offensive line coach Sean Devine. "This spring will be a big time for evaluation and we will look at John Wetzel, Emmett Cleary, Seth Betancourt, Aaron Kramer, and Mike Goodman to fill the two tackle spots. We are trying to foster some competition in the o-line room. There are no positions set in stone. There are some guys with more experience than others but the next 13 practices are all about getting yourself ready and competing for those spots."
For the past two seasons, Wetzel has been working closely under Castonzo. Last fall, Castonzo told EA that one of the biggest things that he was working on with Wetzel was keeping his feet underneath him, especially after a defensive end beats him off the edge initially. Devine says that he's witnessed Wetzel make strides in that area.
"Obviously we always want to try and win early in the down, but there are times when you're going to get beat and you need to find a way to get yourself back in position to make the block. It's not always going to look pretty but what it comes down to is getting the job done. We've been working with John on that and we are hoping that it shows on the field," said Devine.
Devine says that the biggest jump in Wetzel's game has been with the mental aspect of playing left tackle.
"He's starting to recognize what defenses are doing from a mental perspective and he's not just locked in on the guy directly over him. He's starting to see the bigger picture which comes from more experience. Young players think, veterans react," said Devine.
While many pundits are predicting that Wetzel will win the spot, Devine says that Emmett Cleary will get a fair shot.
"Emmett is probably the most versatile of all the tackles because he's started at left tackle and then moved to left guard, then right guard, and he finished last season at right tackle. We like how he has progressed," said Devine.
The spring will mark the return of Mike Goodman to the offensive side of the ball after spending all of last season on defense. Will it be difficult for Goodman to switch back to offense?
"I personally don't think it will be too difficult for him. He spent his first two years here at tackle behind Rich Lapham. I'm excited to have him back and I think he'll be fine. He has got to shake off the rust because it has been a while since he got into a pass protection stance or a drive stance. Mike is a hard worker and we'll coach him. We don't just have these 15 practices but the 29 in the fall before we line up against Northwestern," said Devine.
Two more candidates at the tackle spot are youngsters Seth Betancourt and Aaron Kramer.
"Aaron will play at left tackle and Seth at the right tackle spot this spring. We redshirted Kramer last year so he's a little bit further behind just in terms of knowledge of the offense. We kept Seth down with us the entire year, so he was on the two deep taking reps, so he's a little further advanced. But they are both freshmen and they are working on fundamentals, skills, and learning the game of football. They are good kids and have a lot of ability, but they are still in the thinking stage and it's my job to get them out of that," said Devine.
On the interior of the offensive line the Eagles have more starting experience returning than at tackle. Nate Richman will play at left guard and Mark Spinney will play center after starting the end of last season at those spots.
"Nate will be at guard which is probably his natural position. Once we played FSU we made the switch to Nate at guard and Mark at center and the unit performed better. There was better chemistry and it was a natural fit. It was a natural progression for Nate and I think he's just more comfortable there. He still has the ability to play center and I think he gained some valuable experience learning how to play the position. Mark did a nice job at center and he has taken the next step in terms of learning what defenses can do. Mark is very smart and works really hard at his game. He really made the line right. Hopefully we will see his progression continue," said Devine.
Although Richman will play at left guard to start the spring it's not something that is 100% guaranteed. Devine thinks of the two guard spots as a lot more interchangeable than the tackle positions.
"Who plays left or right guard will be determined later. Right now besides Nate we have Ian White, Harris Williams, Bryan Davis and Bobby Vardaro competing for the positions. At the guard position, some kids are more natural in left handed stances or right-handed stances. However I think you can train a right-handed kid to be in a left-handed stance. I think it's more about finding your biggest, your strongest, and your toughest guys and plugging them inside. All of the guards really need to have the ability to play center," said Devine.
In terms of game experience, White has an edge compared to the rest of the players.
"Ian is a tremendously hard worker. He took reps at centers and both guard spots during the course of last season. Physically he wasn't quite ready but he battled. He has made tremendous strides in the offseason and hopefully he's ready to be a reactor," said Devine.
For now, red-shirt freshman Andy Gallik will focus on the center position.
"Andy spent some time with us last year. He has an idea of what's' going on. He definitely has some ability, he's a rough and tumble guy," said Devine.
One thing's for sure, the offensive line position has the potential to be the most competitive this spring, not to mention the most important.