A More Optimistic Jurkovec Ready for Final BC Season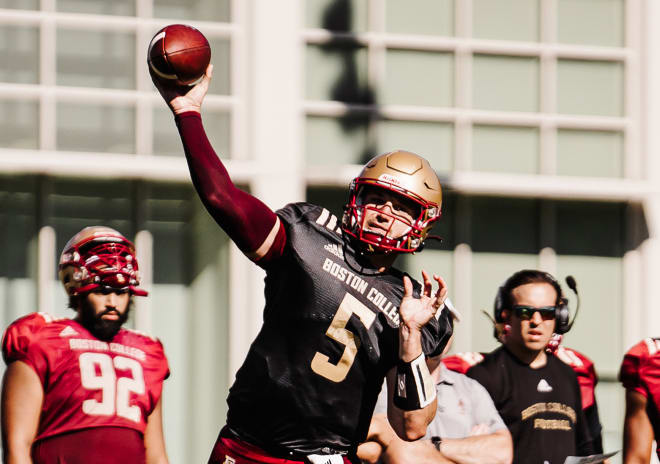 Boston College starting quarterback Phil Jurkovec and his backup, Emmett Morehead, hit Dick's Sporting Goods to buy a pair of fishing poles.
They've spent hours fishing together in nearby reservoirs this summer. The experience has been more about furthering their bond than the small bass they've been catching.
Just being around Jurkovec, Morehead has noticed a change in the NFL prospect.
Everyone around the program has, actually.
"In practice, I see a big difference in how he prepares," Morehead said. "He just feels, to me, much more in control of our operation. And it's exciting."
Third-year head coach Jeff Hafley emphasized how this is shaping up to be Jurkovec's first normal season. The former Notre Dame transfer arrived in Chestnut Hill after a rough two years in South Bend. Then he had to wait out the NCAA for an immediate-eligibility waiver before playing in a 2020 season that was weird for everyone.
Last season, of course, was derailed by a season-threatening fracture to his throwing hand. Jurkovec returned for the final four games of the year, however, he was far from 100%. So, in a way, his last go-around really is his first normal go-around.
That said, even this year has an added wrinkle, and that's that Jurkovec has had to learn another offensive system. Former offensive coordinator Frank Cignetti Jr.—a fellow Pittsburgh native who helped get Jurkovec to BC—left for his hometown school, and Hafley brought in former Notre Dame tight ends coach John McNulty to be the new OC.
For Jurkovec, the spring was about soaking in McNulty's scheme.
"He's really embraced everything we're trying to do," McNulty said. "I think he's been in high spirits out there. He's been playing at a high level. It's his last year to win as many games as possible, to set his future up."
McNulty noted that Jurkovec is more "positive" and "optimistic" this summer. Hafley agreed, pointing to his performance at this year's ACC Kickoff, where Hafley said Jurkovec was visibly more comfortable.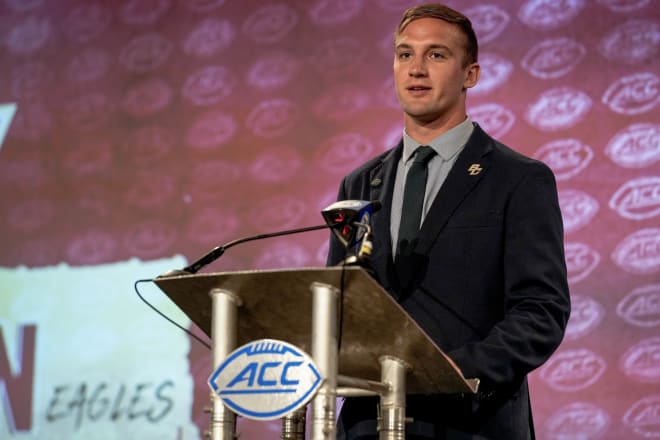 "He's got some zip on the ball right now," Hafley said. "It's coming off his hand. I'm proud of his development, his leadership, just overall as a person, too. Which is one of the coolest parts about coaching college football."
Jurkovec feels like, when he's on, he can hit any throw from any position. BC's do-it-all defensive back Josh DeBerry recalled a play during Sunday's practice where Jurkovec fit in a pass on a Cover 2 read.
"I can't be too late," DeBerry said. "I have to make sure I'm on all my reads. I read the receiver and all that so I can't be a step behind."
From the other side of the ball, DeBerry said he's seen the growth of Jurkovec, both as a quarterback and as a vocal leader. Part of that development has come from two trips to the Manning Passing Academy at Nicholls State University in Thibodaux, Louisiana.
Hafley said that Jurkovec asked if he could go again this summer, and Hafley didn't hesitate to say yes, just telling his quarterback to have fun. Hafley also joked with Jurkovec that he'd have to let him know if he saw anyone bigger than him there.
The 6-foot-5, 214-pound Jurkovec compared the Manning Passing Academy to a work conference. It's 45 quarterbacks from all across the country together bouncing ideas off each other.
Jurkovec, now a redshirt senior, made it clear that most of the event is mental. While there are some on-field workouts with the Mannings, most of the Manning Passing Academy is dedicated toward bettering your football IQ.
"I know they're older now, but they're not the most athletic guys," Jurkovec said. "They don't have the motion of [Patrick] Mahomes or [Aaron] Rodgers. They don't just flick the ball. At times, it looks like they're really trying and throwing, but they make all the throws, and they know the game so well that they could play at the highest level."
He continued: "I think that just shows you that the mental side is so important. And, if you're ahead of the game mentally, then you can make up for a lot of things."
Jurkovec wants to play smarter in 2022. That means taking fewer hits as a passer. He believes last year's injury was a "fluke," but he knows he could have done a better job protecting his body in 2020. Jurkovec understands that he also has to be more selective as a runner.
He admitted that, occasionally, he's been "reckless" as a ball carrier. Jurkovec recognizes that he must be conscious of that this season.
"I think he's just much more driven right now," Morehead said. "I think he knows his time clock is running out, and last year was so frustrating for him. ... I think he's feeling the urgency and what he needs and how he needs to perform and play."
It's pressure. But Jurkovec, who has often been a magician under pressure on the field as BC's quarterback, is channeling that sense of urgency into confidence.
And a kind of positivity that's infectious.