2017 Versatile Wing Commits to Boston College
The Boston College Eagles basketball program has been busy the past two weeks. In that time they've landed commitments from Atlanta area guard Avery Wilson and most recently from stretch four man Vin Baker Jr., earlier this week.
Now, EagleAction has learned that the Eagles have landed a third commit. The Eagles had an official visitor on campus this week in 6-foot-8 wing, Steffon Mitchell. After arriving back home from the trip, he and his family talked it over and he pledged his commitment to Eagles head coach Jim Christian late Friday afternoon.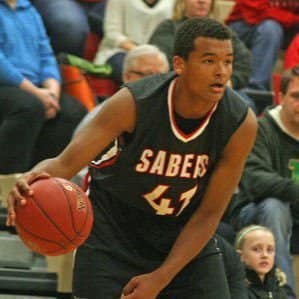 "I'm really excited," the new Eagles commit told EagleAction on Friday afternoon. "I liked the people, the coaches were nice, and the players were great!" He added, "I feel like they have the necessary people in place there to win games."
Mitchell was also pleased with the academic side of the official visit from this week. "I really, really liked the academic culture there on campus," he explained.
"I'm excited to be able to go to a great school like Boston College," Mitchell said.
Although Mitchell is originally from Shapokee, Minn., he just completed a post graduate year at a Sunrise Christian Academy in Wichita, Kan.
"The prep year was awesome, I really needed it. I've improved my strength and over all game a lot because of it," he said.
His Prep School coach Kyle Bankhead told EagleAction, "we play the highest level of competition you can possibly play against." Bankhead schedules mostly junior college's on the Sunrise Christian basketball schedule, mixing in the Prep School basketball showcases out on the east coast throughout the season too.
Mitchell's extra year of work on the floor, in the weight room, and playing against strong competition all has led to his continuous improvement into the player he is now.
Mitchell is a welcome addition to the Eagles roster.
He could be a key piece, along with recent commit Vin Baker Jr., to finally having the stretch four man that this team has so desperately missed and needed over the past two seasons.
"I'm a 3/4 man," Mitchell said while describing his game. "I'm a very versatile player. I can shoot it, defend, rebound the ball and bring it up the floor."
Coach Bankhead added to the Mitchell evaluation, "he's a face-up 4 that stretches the floor." He finished, "he shoots it, and he can pass it at a pretty high level." Bankhead also mentioned that Mitchell can switch onto smaller defenders, and often did while playing defense for him this past season. "He has deceptively good feet for how big he is, he's 6-foot-8 and has a solid frame."
Having a versatile scoring option at the four man spot is something this Eagles lineup has struggled with recently. Now with the additions of both Baker and Mitchell this week, BC has taken the necessary steps to try and fix that problem.
"The coaches started talking to me last month and then came out to watch me workout," Mitchell said. They must've liked what they saw upon their arrival. Mitchell says the Eagles extended a scholarship offer right then and there, "as soon as they offered me, we started discussing when I would come up for my official visit right away."
The Eagles were able to beat out schools like Nebraska, Minnesota, Wichita State, Utah, and Boise State for his services.
Mitchell tells EagleAction that his plan is to sign his Letter of Intent "right away", as soon as he receives it.