2013 DE lands BC offer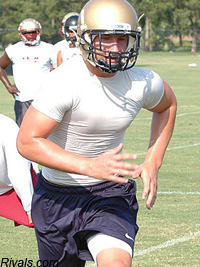 Joey Bosa
's father, John, played at Boston College in the 1980s so when he visited Chestnut Hill this past weekend and got word that an offer was now on the table for his son there was definitely some excitement.
"He visited there this past weekend and that's how they offered me," Bosa said.
Bosa, a 6-foot-3, 230-pound defensive end in the 2013 class from Fort Lauderdale (Fla.) St. Thomas Aquinas, is still not versed in the ins-and-outs of the Boston College program but he knows his dad played there and so he'll definitely look into the Eagles.
Now that an offer is on the table Bosa said it's definitely something to consider as his recruitment continues.
"That's where my dad went to school," Bosa said. "I haven't talked to them much before but I'll definitely look into it."
Alabama, Florida State and Iowa have also offered the 2013 prospect who probably gives the Crimson Tide a little bit of an edge in his recruitment at this point. It's still early though so anything could happen.
Boston College is recruiting a bunch of prospects from St. Thomas Aquinas, arguably the top high school football team in the country, and has for years. Getting Bosa would be a huge pick up but there will definitely be lots of competition.
According to Boston College's site, Bosa's father, John, was a dominating defensive player and pass rusher who earned multiple honors for his play at defensive end.
Bosa was co-captain of the 1986 Boston College team that played in the Hall of Fame Bowl and he was also part of the teams that played in the 1982 Tangerine Bowl, the 1983 Liberty Bowl and the 1985 Cotton Bowl.
He was a first round draft pick of the Miami Dolphins and later played with the New York Jets before injuries ended his career early.
WANT TO GO INSIDE BOSTON COLLEGE?
Try our 7-day free trial now, just CLICK HERE to start getting the inside scoop on the Eagles and becoming a part of the biggest online community for Boston College sports.