Four-star running back recaps BC visit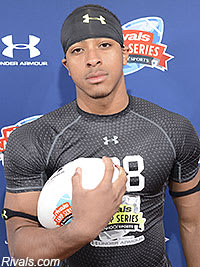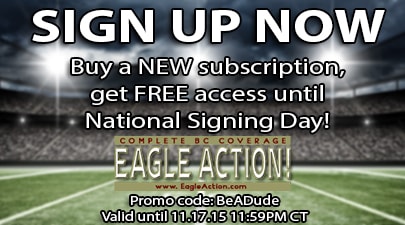 Four-star running back
AJ Dillon
has been playing high school football on Saturdays this year so he hasn't been able to go to many college games.
The Lawrence Academy running back, a Rivals250 prospect, went to Virginia's early-season game against Notre Dame. But that was a long time ago -- about two months. He didn't go anywhere until this past weekend, when Dillon unofficially visited Boston College.
The 24-8 loss was surely not the performance Steve Addazio and his coaching staff was hoping for, but in spite of the loss Dillon came away feeling good about the trip.
He was accompanied by his mother and little sister. According to Dillon the trip was more for his mother than for him.
"I had been to BC before," Dillon said. "I visited last year when they played Syracuse and I had been there two other times. I was at a junior day a while ago and then I took an unofficial (visit) way back. On Saturday we went onto the field. We watched pregame. We met with some of the coaches before the game. Just small talk or whatever. Then we watched the game.
"I've been to BC a bunch of times so I really didn't need to see too much. My mom wanted to see it. It was nice to have her see what the atmosphere would be like," Dillon explained.
According to Dillon his mother came away feeling good about Boston College. It wasn't just her first game day atmosphere. It was her first time at Boston College period.
"She thought it was really nice," Dillon said. "She really hasn't been with me for a lot of these trips I've been on, so a lot of the stuff she's just kinda starting to get. She's realizing that some schools have this or that and what differences there are."
Dillon said one of the things he enjoyed about the trip was seeing a lot of players and others that he knows from the area.
He said he knows
Al Washington
and
Don Brown
"by far" the most of any coaches on the staff. Brown is his area recruiter and Washington is his position coach.
"I love Coach Wash," he said. "I love Coach Brown. They're really relatable guys. They're really down to earth. They're funny and know what they're doing. They know what they're talking about. I have a pretty good relationship with both of them."
Once Dillon's season is over he plans to take a couple of unofficial visits to other schools. But that, he said, depends on whether he picks up any new offers. He's playing basketball this winter so that will cut into the free time he would otherwise use for recruiting visits.
That also means he's not sure which other schools he might visit in the near future.
Virginia is a school that Dillon has been to multiple times, including for that early-season game against Notre Dame. Are the Cavaliers still in the mix?
"I still talk to them a lot but not every day," Dillon said. "I'll call Coach Lewis or send him a Twitter DM. They've offered me. I've been down there three times. I have a really good feel for them. They know what I'm about. There's not really much that they still need to sell me on. I have a really good feel for that program."
Boston College helped their cause over the weekend and now the Eagles are one of the programs that have his full attention.
"I wouldn't say I have a top list or anything," he said. "But Boston College, with them being one of my first offers and being right here, definitely that's one that I like. Notre Dame, because of my grandfather. Virginia, Penn State, Iowa ... I'm kinda all over the place. I don't have a top school. Every school has something that interest me. I don't know what I want to major in. I just really want to get through my season, but probably midway through the winter I'll probably try to cut down my list and take some unofficials to some schools. Then I'll start to lean towards making my decision. Because I wantt to have a decision made before I start my senior season."