Up and Down Performance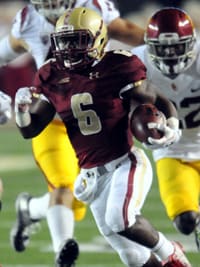 CHESTNUT HILL - Defense dominated the day in the Boston College football team's second preseason scrimmage Saturday at Alumni Stadium.
On a cool August morning, the Eagles' defense overcame a pair of early touchdowns and held the offense out of the end zone all but four times in a convincing 66-42 victory.
"I thought we had a pretty good day today," senior defensive lineman Connor Wujciak said. "Everyone was out here flying around, working hard, and we're just trying to get better."
Wujciak, freshman defensive end Wyatt Ray, and freshman defensive tackle Ray Smith each had two of the Eagles' 10 tackles for a loss.
Sophomore defensive back Gabriel McClary intercepted freshman quarterback Troy Flutie and nearly scored on his 24-yard return. Freshman linebacker Tanner Karafa and sophomore defensive back Kamrin Moore also had interceptions.
Junior defensive back John Johnson got to sophomore quarterback Darius Wade for a second-half sack. Junior defensive tackle Truman Gutapfel teamed up to sack Wade on the next play.
Junior defensive end Kevin Kavalec and freshman defensive end Zach Allen each had fumble recoveries.
"All I know is that they're fast and physical and they're playing very well," sophomore running back Jon Hilliman said of the Eagles' defense. "That's a great sign for an offense that wants to get on the field a lot this year."
Hilliman broke loose for an 80-yard touchdown down the sideline on the first play from scrimmage, but the defense forced a three-and-out on the second series.
Sophomore wide receiver Sherman Alston scored on a 39-yard jet sweep on the offense's third series. Freshman quarterback Jeff Smith hit wide-open freshman wide receiver Chase Pankey for a 49-yard touchdown, the longest passing play of the day.
Wade capped off the first series of the second half with an 18-yard touchdown scramble. Senior kicker/punter Alex Howell also made a 32-yard field goal.
"There was just no consistency," third-year Eagles' head coach Steve Addazio said. "We made a few big plays, yeah. Just disappointed - I'm into consistency."
Below are some notes and quotes from the Eagles' second scrimmage.
•Addazio said he was "sick to my stomach" after watching the Eagles' offense stumble through the second scrimmage. "We've got all these penalties going on - I hate penalties," Addazio said. "You're off schedule, we got dropped balls, we've got missed blocks up front. … I'm into no penalties, no turnovers. That's how I vision things, so when it doesn't go that way for me, it's just really upsetting to me." Addazio was admittedly overly optimistic in hoping that Saturday's scrimmage would be the final one before the Sept. 5 opener against Maine, but after seeing the disarray on offense, he plans to hold a padded scrimmage on Tuesday or Wednesday.
•Senior wide receiver Bobby Swigert was one of eight or nine offensive players held out of Saturday's scrimmage for health reasons, Addazio said. Swigert was dressed on the sideline and has been a regular participant in practice as he continues to work his way back from numerous knee surgeries. Senior defensive lineman Mehdi Abdesmad also did not participate in the scrimmage. Junior linebacker Mike Strizak played after missing the first scrimmage.
•Wade had his moments Saturday, the 18-yard touchdown and a 32-yard rush on 3rd and 10 included, but was intercepted by Moore and was sacked twice on back-to-back plays. Smith had perhaps the best day of all the quarterbacks, completing the big pass to Pankey and breaking off a 21-yard run. Flutie struggled from the get-go and couldn't find a rhythm, leaving Addazio with plenty to worry about. "I'm concerned at our quarterback play right now, especially we've got to find out who No. 2's going to be," Addazio said. Flutie came into camp as the presumed backup, but newcomer Smith's play may have leapfrogged him into that spot. Although still not officially announced, Wade is expected to be the Eagles' top signal caller.
•The offensive line left plenty to be desired with a handful of stuffed north-south runs and some holding penalties, but the Eagles' front five started strong on Hilliman's scrimmage-opening touchdown. "It was a great push up front," Hilliman said. "I just tried to read my keys, just trust my eyes, trust my vision. I saw daylight, so I tried to take it. I knew that if I see it, I've got to press it and hit it hard and couldn't hesitate. It was a great first run."
•Alston was also a recipient of good blocking on his jet sweep. "I just give all the credit to the blocking," Alston said. "It was great blocking, downfield blocking that allowed me to be able to score." Alston, who primarily handled kickoff and punt returns last year and will do so again this season, is being transitioned into an every-down wide receiver - and it hasn't exactly been easy. "It's been a grind, I'll say that," he said. "Coach (Brian) White is a good coach and he teaches us all little techniques we could use just to help us with our overall game."
•If the season started on Saturday, Addazio said Howell would be the Eagles' primary placekicker and punter. Howell didn't miss any extra points and made his lone field goal attempt Saturday. He also showed off his leg during a series of 11-on-11 kicking drills midway through the scrimmage, making kicks from 29 yards, 35 yards, and 52 yards while missing a 41-yarder. Howell botched his first punt - a 24-yarder on a low snap - and sophomore kicker Mike Knoll had a 31-yard punt in his lone attempt and also made and missed a 47-yard field goal during the drills. Freshman kicker Colton Lichtenberg made 36- and 47-yard field goals.
•From left to right, the line consisted of senior Dave Bowen, sophomore John Baker, junior Frank Taylor (center), freshman Chris Lindstrom, and freshman Jim Cashman (wearing No. 71 on Saturday instead of his listed No. 72). Alston and sophomore wide receivers Drew Barksdale and Thadd Smith were the most frequently used wideouts while sophomore Austin Chapman and redshirt freshman Tommy Sweeney saw time at tight end.
•Defensively, the Eagles' first unit lined up in a 4-3 with sophomore defensive lineman Harold Landry, Kavalec, Wujciak and Gutapfel being the down linemen. Senior linebacker Steven Daniels anchored the men in the middle and was joined by sophomores Ty Schwab and Connor Strachan. Moore started at left corner and sophomore Isaac Yiadom played on the right side. Johnson joined senior Justin Simmons in the backfield as the two safeties.