Isaacs talks about BC visit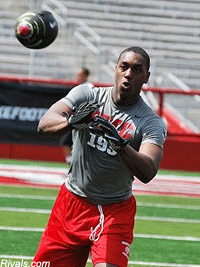 When
Andrew Isaacs
visited Boston College for one of its practices late last week it didn't take the Manchester, Conn., tight end long to notice the Eagles' offense looked pretty familiar.
A lot of Boston College's schemes looked similar to what Isaacs runs at Manchester and that comfort level can only help the Eagles in his recruitment.
"The way they run their stuff it looked very similar to the way we do it and no offense to any of the tight ends there but I can definitely see myself going there and making an impact," Isaacs said. "I like how they run their stuff over there."
Things looked so familiar that Isaacs, a 6-foot-3, 230-pound prospect in the 2013 class, said Boston College even motioned its tight end pretty regularly and that's something he does in Manchester's offense.
"The thing that was funny was they have this thing where they motion their tight end and at one of our practices at football camp we lost our fullback so our coach decided to motion me around," Isaacs said.
"It's basically just like that. Everything they were doing looked real comfortable to me."
It was an outstanding visit for Isaacs, who watched the tight ends meeting, had a chance to talk with athletics director Gene DeFilippo, tour around the campus a little bit and watch a lively practice.
"I like how they practice," Isaacs said. "That was a big part of the visit."
Boston College and Connecticut have offered and it's still early in his recruitment so Isaacs doesn't want to name any favorites even after his good time in Chestnut Hill last week.
The rising junior tight end plans to play out this season and then figure out which programs are involved in his recruitment. The Eagles have done a standout job so far so they will continue to be involved throughout Isaccs' junior campaign.
"I only have the two offers so if I had to pick out of the two I don't really know yet," Isaacs said.
"I'm just going to wait to see how this season goes and to see who else offers and then make my decision after that."
WANT TO GO INSIDE BOSTON COLLEGE?
Try our 7-day free trial now, just CLICK HERE to start getting the inside scoop on the Eagles and becoming a part of the biggest online community for Boston College sports.