Huge commitment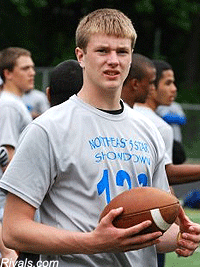 Tim Boyle
committed to Boston College on Wednesday, giving the Eagles a big-time quarterback commitment and the staff a major recruiting victory over Florida and others.
Boyle, the 6-foot-4, 216-pound pro-style quarterback from Middletown (Conn.) Xavier, informed assistant coach Mike Siravo around noon that he wanted to be an Eagle.
"I'm a happy camper right now," Boyle said with a laugh when EagleAction.com caught up with him early Wednesday afternoon.
Boyle has had a long relationship with Siravo and the Eagles and was able to build a lot of trust with the coaching staff, even as other offers continued to roll in.
When Florida offered it appeared as though the Gators had dethroned the Eagles on Boyle's list.
The high three-star quarterback admits the decision ultimately came down to BC and Florida.
"I've had BC up there the whole time since they were the first (school) to offer me," Boyle said. "Honestly, being young I was looking for a program like the (Florida) Gators. I've come to realize it's not about that. It'd be cool to be a Gator but are you going to play? Will you be treated the same way you're treated at BC?
"My whole family is from Boston. The academics are amazing, the campus is beautiful, the coaching staff is top notch and the offense fits me well. It's everything I was looking for a college. BC has just always be there."
Boyle admits that Florida was an appealing option and turning down a program that has won two national championships since 2006 was not an easy thing to do.
Of course, Florida has had plenty of recruiting success in Connecticut, and that's something else that weighed on the quarterback's mind.
When did the turning point occur that tipped things back in BC's direction?
"It was the Florida visit," Boyle said. "I went down to Florida and it's a great place. The coaches are amazing. It really is a top notch place. But when I went down there I realized it wasn't me. I couldn't see myself there.
"I thought about what I liked at Florida and BC had all of that. Then I thought about what I didn't like and BC wasn't like that at all. I just compared them and BC had everything I wanted.
"In the recruiting process you want to feel wanted. BC made me really feel wanted. They've been recruiting me since the beginning of my sophomore year and the coaches at BC pushed me to the point where I see things clearly now."
Boyle went on to say that he is 100-percent committed to Boston College and will not visit any other schools between now and National Signing Day.
"Even if the number one team in the nation offers, I'm going to BC," Boyle said. "I like BC for reasons some people might not understand. It's a great school, a great program and it's in a great conference."
Boyle's relationship with Siravo and the rest of the coaches was a big factor in his decision to commit to the Eagles.
"We've got a great relationship," Boyle continued. "Me and that man spent a lot of hours on the phone. I've taken visits up there and feel extremely comfortable with the coaching staff. From Coach Spaz to Coach Martin, the new offensive coordinator, they're all just great.
"Coach Siravo has played a big role in my recruitment. He's a prime factor in why I love the university and he's a great guy. I've come to know him real well and I'm excited I get to spend the next five years with him."
He quickly elaborated on that statement. Boyle is open to spending five years at BC but he's not going in with that as his plan.
"I think if you go in thinking you're going to redshirt then you'll have lower standards for yourself," he explained. "I'm going in expecting to play, not redshirt. I want to work my tail off and get a spot on the depth chart. If they need me to redshirt then I'm going to do that. It will be something that's a mutual agreement between Coach Spaz and myself. But I'm going in to work hard."
Boyle is ranked the No. 21 pro-style quarterback in the nation. He received offers from UConn, Pitt and Syracuse in addition to BC and Florida.
WANT TO GO INSIDE BOSTON COLLEGE?
Try our 7-day free trial now, just CLICK HERE to start getting the inside scoop on the Eagles and becoming a part of the biggest online community for Boston College sports.