Anderson planning BC visit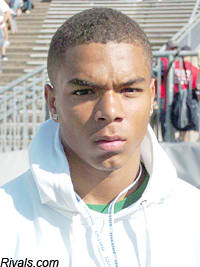 Richie Anderson
has been following Boston College's football program for years so when assistant coach Ryan Day recently offered the 5-foot-11, 180-pound prospect in the 2013 class got excited.
Boston College and Maryland have offered the Frederick (Md.) Thomas Johnson all-purpose back and he said Penn State, East Carolina, Duke, Oregon, Marshall and others are showing interest. His dad played for the Nittany Lions so Anderson has always kept a close eye on that program.
"I've always been interested in BC ever since I was a kid," Anderson said. "When Matt Ryan played there that was a great team
"I didn't have much time to go up there but I've been getting a lot of letters from them. About two or three weeks ago their receivers coach, Ryan Day, told me that they would like to give me a scholarship.
"It was a surprise to me that it was Boston College. I was sort of expecting Penn State because of my dad. I was happy because I like BC but it was a surprise."
Maryland has been involved with Anderson for a good deal of time and the Terrapins are definitely under consideration. Anderson has been talking to them for a few years and he said it's a program he likes a lot.
"Maryland has been with me since I was a freshman and they've been talking to me that long," Anderson said. "They offered me when I was a sophomore and being in my home state I've always been interested in them.
"I went there a lot. When I first got my offer it was from a 7-on-7 camp and my high school was there. A few weeks after that we went up for their spring practice and I went to three or four of their games."
This off-season is going to be important for Anderson, who said he wants to take some unofficial visits to get a better understanding of the schools recruiting him. Boston College should be one of his stops.
"Before this year I wasn't trying to narrow it down but going into my senior year I'm going to visit places like East Carolina, Virginia and Boston College just to get a feel for some places," Anderson said.
WANT TO GO INSIDE BOSTON COLLEGE?
Try our 7-day free trial now, just CLICK HERE to start getting the inside scoop on the Eagles and becoming a part of the biggest online community for Boston College sports.